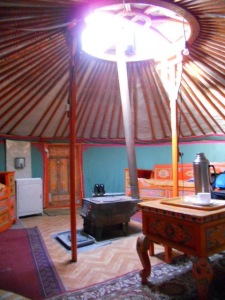 22nd March
There are not many guests in the camp; apart from our guides there is Kevin, a fuel technician who lives in Alaska and works in Antarctica and Mel, Leah and Carol from Canada.  It feels like a snow lovers convention until, "Hello, I'm Steve from Hertford."
Steve is having a bad day; he had his camera stolen from the train, he also managed to lose his passport.  Later, Kevin tells me that in the last two days Steve has also lost his room key, his customs form and his lunch voucher; I sense that North London has not made a great impression here for being well organised.
Dinner at the camp is a traditional Mongolian affair – we eat Khor-Khuk (literally translated as 'poison mess') which is beef cooked slowly over hot stones – given that I am now well and truly on the dark side of the vegetarian society I dive in and, I have to say, it is really, really good.  We are joined for diinner by Nasaa's colleague, Ogii, a geologist by training she has found it easier to earn a living from being a tour guide.  She is tall, elegant and fiercely Mongolian; she strides around the camp in a tee shirt laughing at the rest of us who are busy modelling the North Face catalogue – "today it is lovely, only minus six!"
After dinner I retire to my Ger.  Khorga is an infectiously cheerful soul who has the job of stoking the tent stoves around the camp which he does in the early evening and at 2.00am.  Outside the city, Mongolian men seem to dress either in the traditional style or in para-military style army surplus clothing.  Khorga chooses the latter and I am slightly alarmed when he arrives in my tent at 2.00am carrying a bucket of dried dung and wearing a bullet proof vest.  However he does a great job; despite the intense cold outside, the temperature inside the tent starts out at around 40 and cools gradually overnight; by 5am it is still warmer than the average student bedsit.  Having said that, the 5.30 dash to the toilet across two hundred yards of open snow in minus 25 degrees is a bit bracing.
Breakfast is a similar gargantuan affair involving Mongolian rice pudding; tea; potato pancakes and Mongolian pastries (donuts to you and me) – I feel ready to wrestle a live bull (after a little lie down though). Ogii is called away part way through the meal; apparently Steve is at the station and has lost his train ticket.  There is much sighing and eye-rolling round the table.
I'm considering telling people that I am Welsh.